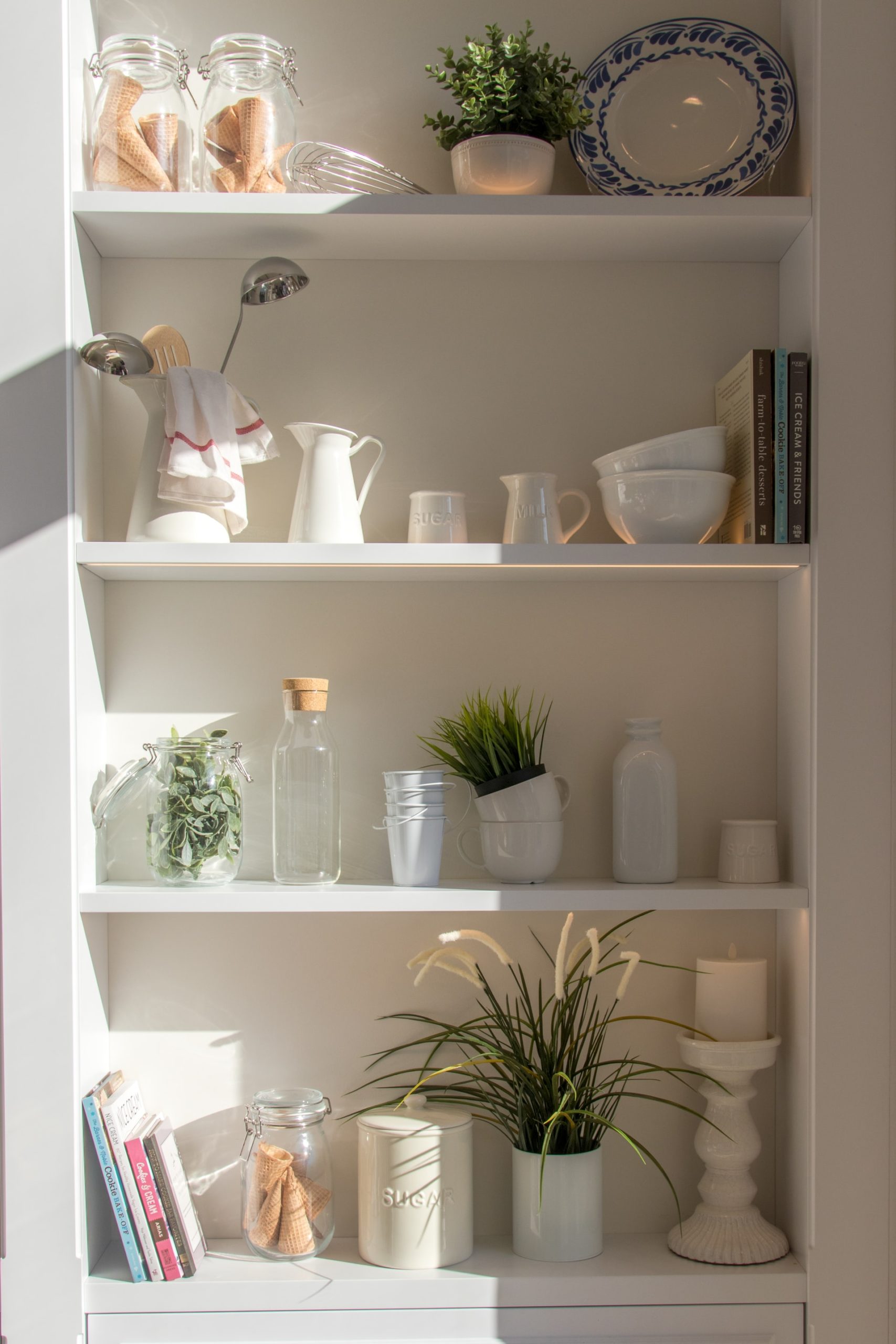 The New Year is prime time for setting up new habits to ensure success and ease in the coming months. Many create goals for fitness levels, maybe setting benchmarks to read more books, or starting to lay the groundwork for getting a promotion at work. How can this spirit of improvement reflect in your domestic life? While cataloging the end of the year and setting sights toward new beginnings, take a moment to find ways to breathe new life into your space and enhance the place where you spend the most time.
Pantry Makeover
Whether living solo or in a big family, food storage can often be a point of frustration in the home. Clutter can lead to waste and spoilage, and no one wants to pull out every pot and pan to reach the pressure cooker in the back of the cabinet. Streamlining your pantry can lead directly to money savings by ensuring everything you buy gets consumed, and by making the food prep process way more enjoyable! Adding a lazy-susan tray to deep cabinets can make them much more accessible, and is also great for dry goods. See-through storage containers add a sleek look to a cabinet and ensure you can see how much food you have. Take stock of what is and isn't working for you, and build from there to find solutions that will continue to serve you long term.
Adding Some Green
Plants are a dynamic design element that have suitable applications in every room. They add a ton of textural interest and also open up opportunities for layering and stacking with other elements like books and vases. Plants have been proven to lift moods, clean the air, and add fresh energy to the spaces they occupy! Whether it's learning to cultivate your green thumb with herbs in the kitchen, a vow to periodically give yourself fresh flowers (self care!), or adding a hardy plant like a peace lily to a neglected corner, going for more green is a great resolution.
Sustainable Solutions
Sustainability gets a lot of airtime in many facets of our daily lives, and home décor is no different. Maybe instead of gutting your living room set you just need to rearrange or even reupholster your existing pieces? Upcycling vintage pieces can be an amazing creative challenge, bonding moment with kids, and money saver! Choosing to incorporate eco-friendly elements can also be an amazing way to lessen one's carbon footprint: rattan furniture is biodegradable, and there are even bed linens made from 100% bamboo! Whether it's shopping second-hand, or supporting a new sustainable company, incorporating mindful choices into décor is a decision that feels good in the moment and pays off for years to come. Small choices can all add up to make a significant difference for our planet.
There are just three quick ideas that are certain to make any home feel brand new! And remember, small changes can make an enormous impact on your living space. What are your resolutions for the new year? At the end of the day, what matters most is that your home feels safe, happy, and like a reflection of you.